about us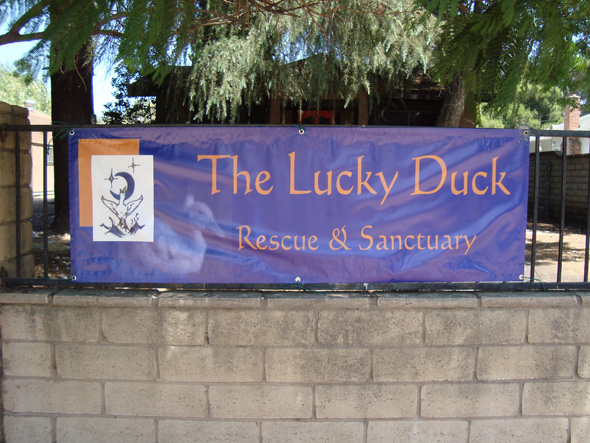 The Lucky Duck Rescue & Sanctuary has been in continuous operation since 1991. Our loving facility is located in the foothills of Sun Valley, a northern suburb of Los Angeles, California. We are the only facility in all of the Southwest that provides this vital service. We are a registered 501 (c) (3) non profit organization.
As of July 2009, our residents consist of 90 ducks, 3 geese, 4 muscovies, and one toeless umbrella cockatoo. Call ducks, Indian Runners, white Pekins are the most common of our rescues. All of these lovely creatures were brought in as rescues or were abandoned by their previous owners. We also have 4 chickens and 5 pigeons - our director has a problem saying "no" to birds in need.
Other than the birds that are blind, or seriously lame, all of the birds are released from their pens every morning. They are free to roam around most of our 1/2 acre, completely fenced facility, and use the numerous pools and feeding stations. The grounds are greatly shaded by the large and numerous fir, orange, and pomegranate trees throughout the facility. Each night all of the birds are led back to their respective locked pens. We only provide top quality feeds.
Their health, safety, and quality of life are our top concerns. We like to think we are providing a little piece of "Duck Heaven" to these delightful deserving beings. People who visit us usually say the same thing.